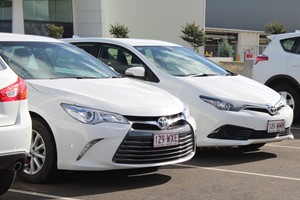 Pre-booking online parking is not required as there is ample parking available an easy walking distance from the passenger terminal. 
Short and long stay parking is currently in the same area
The parking area is monitored 24 hours a day
Accessible parking is available in the bays closest to the pedestrian walkway. 
Scroll down for parking rates and payment options.
DROP OFF ZONE TIPS
For information on parking for mobility impaired travellers, please visit our Accessible Services page.
Vehicles can remain in the drop off zone at the front of the terminal for a maximum of 2 minutes. Should you need to stay for longer please park in the car park.
For security reasons, vehicles collecting or dropping off passengers in the drop off zone at the front of the terminal must be attended at all times. Any vehicle left unattended may be towed away.
Hire cars are currently parked within the main car park in branded, designated bays for each hire car company.  When RETURNING a hire car, please park the vehicle in the applicable bay; then return the keys to the customer service agent on duty. If the hire car desk is not open, drop the keys into the key deposit area, available at each desk.
HOW TO MAKE PAYMENT FOR PARKING
For Cash Payment simply take a paper ticket upon entry and keep it in a safe place. On your return, insert the ticket into the pay station, located in the terminal adjacent the baggage claim and pay with cash or credit card.
For payments under $100 Paperless Credit Card Payment is available. Please note that for this method to work, you must insert (not tap) the SAME credit card on entry and exit, your card must be tap & go enabled and your daily limit on that card must not be exceeded. 
Pay using VISA, Mastercard or cash only.
Unfortunately, the system does not accept American Express or Diners Card.


SHORT TERM PARKING RATES
| | |
| --- | --- |
| Day | Cost |
| First 4 hours | Free |
| Over 4 hours till midnight | $15 |
LONG TERM PARKING RATES
| | |
| --- | --- |
| Day | Cost |
| 1 Day | $15* |
| 2 Days | $30* |
| 3 Days | $40* |
| 4 Days | $50* |
| 5 Days | $60* |
| 6 Days | $70* |
| 7 Days | $80* |
| Additional days | $5* per day |
*Total costs are rounded up to the closest day. Parking prices above are valid for 2020.