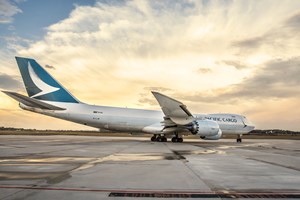 Toowoomba Wellcamp Airport (WTB) is the home of Queensland's only dedicated 747-8F International Freighter Service.
With flexible customised freight solutions and dedicated to meeting client and cargo needs, the Airport is taking the lead in developing freighter services for Queensland.
Read more about our Cargo Terminal capabilities here.
Cathay Pacific Cargo
Cathay Pacific's weekly 747-8F service operates on a Tuesday from WTB direct to Hong Kong (HKG). This flight allows connection to Cathay Pacific's worldwide air cargo freight distribution network.
Schedule (subject to change):
16:45 Arrival WTB (local time, Tuesday)
18:15 Departure WTB (local time, Tuesday)
00:50 Arrival HKG (local time, Wednesday)
Chartered Cargo
Toowoomba Wellcamp Airport (WTB) welcomes charted international and domestic cargo movements. Please contact info@wellcampairport.com.au for more information.