Australia's newest airport welcomes scheduled RPT and cargo operations, as well as ad-hoc chartered aircraft movements.
Left: The first international passenger flight out of Toowoomba Wellcamp Airport aboard a Qantas A330 - a chartered departure from Toowoomba to Shanghai for TSBE Access China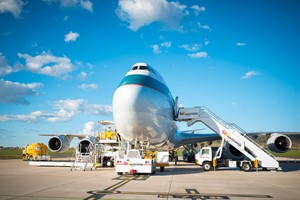 GSE (Ground Support Equipment)
Extensive Ground Support Equipment (GSE) for handling multiple classes of aircraft and cargo.
Maindeck, lower deck and oversized cargo supported.
Cargo dollies
Air start unit, tether and stair trucks.
JIG4 compliant underwing and overwing refuelling.
Airport Operational Information