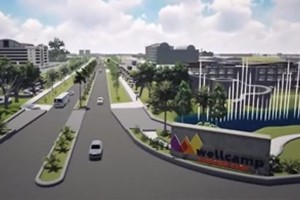 Wellcamp Business Park incorporating Toowoomba Wellcamp Airport will be the business hub of Toowoomba and regional Queensland. With an aviation, logistics, transport, corporate and mining services focus, Wellcamp Business Park will be Queensland's premier airport precinct.
A NEW HOME FOR BUSINESS
Wellcamp Business Park will be a destination in its own right with wide landscaped streets, parklands, first class presentation of buildings, all leading to a modern regional airport terminal. Situated on the Toowoomba Second Range Crossing with direct access by road to the south, west, north and east of Queensland, Wellcamp Business Park is ideally located to service Queensland and Australia's business needs.
Potential industries;                                      
Aviation maintenance
Aviation training and support industries
Aviation logistics
Transport logistics
Warehousing and distribution
Corporate offices
Manufacturing
Commodity processing
Factory outlets 
SALES/LEASING OPPORTUNITIES
Wellcamp Business Park is open for business - the sky is not the limit, secure your future now!
The Toowoomba region has an abundance of quality primary, secondary and University educational facilities, and a stable quality workforce. Housing and industrial land pricing is lower than capital cities. Toowoomba is serviced by 3 major hospitals and its population is approximately 172,000.
Situated directly adjacent to the new 747 capable Toowoomba Wellcamp Airport, your business will have direct access to this facility, and the new Toowoomba Second Range Crossing.
Toowoomba Wellcamp Airport has services to the major centres of Australia. With direct access to the Surat Basin, Bowen Basin, Galilee Basin; your business will be placed to take advantage of these growth areas. The Airport currently offers direct flights to Brisbane, Sydney, Melbourne, Townsville, Proserpine and Western Queensland destinations.
Situated at the hub of the Darling Downs and Lockyer Valley food bowls your business will be well located to take advantage of trade of chilled beef, fruit, vegetables and other agricultural and industrial products.
Buy your own fully serviced land parcel or we will design and construct a facility to meet your requirements.
Wellcamp Business Park will become a self-sustaining commercial centre for a diverse integrated business community.
Direct enquiries info@wellcampairport.com.au
SITEPLAN
Sites are available to lease or buy within the Wellcamp Business Park. We offer full flexibility to offer the right size site, in the right location for your business.
The site would be best suited to:
Aviation maintenance
Aviation training and support industries
Aviation logistics
Transport logistics
Warehousing and distribution
Corporate offices
Manufacturing
Commodity processing
Factory outlets