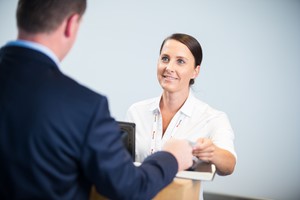 Upon arrival at Toowoomba Wellcamp Airport, all airline check-in desks are located at the entrance marked 'Arrivals'.
We recommend arriving at least 1 hour prior to your domestic flying time, allowing a little extra time during peak travel season or if you have a medical or physical condition requiring special assistance.
We also recommend always contacting your airline about check-in times.
SECURITY SCREENING PROCESS
Security Screening is in everyone's best interest and has become an essential part of the way we travel.  You can assist our Security Team to get you through the process faster by being prepared and implementing a few basic measures.
Store loose items straight into your hand luggage instead of your pockets.
Keep your laptop and mobile phone where you can easily access it for placement into a screening tray.
Metal buckles on belts or shoes and certain types of jewellery will set off an alarm, so be ready to put those into a screening tray.
WELLCAMP AIRPORT AMBASSADORS
The Toowoomba Wellcamp Airport Ambassador Program is uniquely managed by U3A in Toowoomba Inc. U3A is the University of the Third Age, which is the age of active retirement, coming after the age of youth and working life.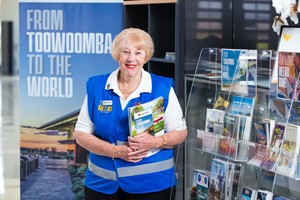 Ambassadors will often be the first point of contact for arriving and departing passengers. Working in shifts to meet all arriving and departing flights, volunteers will make themselves available across the terminal to provide:
visitor, airport and transport information;
assistance to parents with children;
luggage assistance; and
mobility assistance.
If you are interested in adding a new dimension of learning and community involvement in your life, consider becoming an Ambassador. Contact U3A Toowoomba Inc. direct on 46877659 or u3atoowoomba@bigpond.com at for more information.
BATTERIES - SPARE/LOOSE & POWERBANKS
Important to note that there are restrictions on the amount and type of batteries that may be carried on board an aircraft for personal use.
No more than 20 spare batteries in total, for personal use, are permitted per passenger. All other battery restrictions still apply e.g. no more than two spare lithium batteries exceeding 100Wh and up to 160Wh, are permitted and forms part of the total carried.
A combination of batteries may be carried e.g. 10 x 98Wh lithium ion + 2 x 138Wh lithium ion + 2 x 12V & 98Wh non-spillable + 6 x alkaline.
Note: Watt hours (Wh) are determined by multiplying the voltage (V) by the amp hours (Ah). ie. 12V x 5Ah = 60Wh
Read more at Qantas.com
DANGEROUS GOODS
There are a number of items that cannot be taken onto aircraft as they are considered dangerous goods. In particular flammable liquids or gases are not permitted on aircraft as either checked or carry-on luggage. These will be confiscated at the screening point. For a comprehensive list of dangerous goods please refer to the Australian Civil Aviation Safety Authority website.
PROHIBITED ITEMS
The Australian Government determines what items are not permitted in your carry-on baggage for security and safety reasons. These items are referred to as prohibited items.
When packing, place all prohibited items in your checked luggage prior to checking in for your flight. Prohibited items found on your person or in carry-on luggage will be confiscated at the screening point.
Examples of prohibited items:
× Scissors
× Knives
× Sporting bats and clubs
× Letter openers
× Non personal aerosols
× Personal aerosols with no safety guard
× Imitation firearms (toy)
This list is an example only, full details can be found at TravelSecure.
LOST PROPERTY
Left on your arriving airline // Please contact your airline directly if you have left anything on board after disembarking your flight.
Lost in the airport terminal // The Toowoomba Wellcamp Airport Administration Office receives any lost property that has been handed in at the Airport.
Lost property is held for a maximum of 90 days, whereafter items are donated to local charities.
Contact the Toowoomba Wellcamp Airport Administration Office between 8am and 5pm weekdays for further inquiries +61 7 4614 3200. 
LOST OR MISSING LUGGAGE
Every airline has its own lost luggage procedures. If your luggage has been damaged during your flight or has not arrived, please contact your airline direct. 
The Toowoomba Wellcamp Airport Administration Office can be contacted on +61 7 4614 3200 between 8am and 5pm weekdays for enquiries in this regard.
SECURITY RELATED THREATS
Passengers and visitors are reminded that the illegal possession of weapons is a criminal offense and shall be referred to Law Enforcement Agencies.
UNATTENDED BAGGAGE
Baggage must never be left unattended within the Airport complex. All bags left unattended will be treated as suspicious, and may be subjected to additional screening and destruction.