09 September 2019
On Sunday 8 September 2019, The third Women In Aviation STEM Careers Day was held in Brisbane where like minded women aviation professionals met to inspire the next generation!  
Toowoomba Wellcamp Airport were honoured to be invited to support the day that saw over 15 industry bodies and 150+ students attended the event in Qantas' Hangar 2.  Not only were they able to engage with industry leaders in aviation but were also offered an opportunity to view a Qantas Dash 8 and Qantas Boeing 737 up close.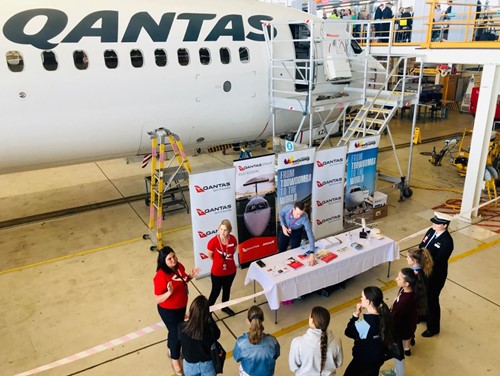 Driven by a group of female aviation professionals who coordinate this annual event entirely on a volunteer basis, the day is open to high school students in STEM, interested in careers in aviation.
"We're aiming to inspire young women to consider a career in STEM-based aviation by being visible. If you can't see it, you can't be it", says Captain Hayley Wood, organiser of the event.
Aviation professions showcased included research and development, pilots, engineers, air traffic control, and aviation medicine. Students also heard about the Qantas Group Pilot Academy, which will be based at Toowoomba Wellcamp Airport and the impact this groundbreaking facility will have on the Toowoomba Region. Read more about the Qantas Group Pilot Academy here.