21 August 2018
Toowoomba Wellcamp Airport's weekly Cathay Pacific 747-8 freighter service to Hong Kong continues to open new export possibilities for the region. It truly embodies the Airport's brand message, 'From Toowoomba to the World', as it catapults into the limelight the intrepid progress of a region on the cusp of an exciting future, enabled through travel, international trade and a raft of infrastructure investments.
'The freighter service is perfectly positioned to facilitate the export of fresh produce and chilled beef to major markets in China. It is, however currently servicing a very diverse client base as freight forwarders begin to learn about the significant scope and capabilities of the Toowoomba Wellcamp Airport and Cathay Pacific Operation,' said Sara Hales, General Manager at Toowoomba Wellcamp Airport. 'And, of course it is always exciting to see a unique piece of cargo like we have going out today'.
Today's cargo is a 2018 Dodge Challenger SRT Hellcat, imported by a local Brisbane company SCD American Vehicles that remanufactures them to right-hand drive for domestic and international sale. These cars are quite unique and produce 707 horsepower from the factory floor. They are powered by a Supercharged 6.2L SRT Hellcat Hemi V8 Engine and once fully converted and compliant to Australian Standards, retail for about $170K.
'It is great to see SCD American Vehicles leading in the export of remanufactured vehicles from Queensland' added Sara Hales 'seeing them use the Cathay Pacific service today is a great example of the airports' capability to handle all types of cargo from Queensland Exporters'.
 'The car was purchased by a person in Hong Kong, we were originally going to ship it in a container however the new owner had other ideas and couldn't wait that long. With a hefty price tag already on the vehicle, the owner wanted it sent over via AIR Freight – seemingly desperate to get their hands on the car no matter the cost' said James Chalmers of Cargoclear International, in charge of arranging the freight forwarding for the vehicle.
'The great news here was our knowledge about the Toowoomba Wellcamp airport and their weekly service directly to HKG. The American muscle car has come all the way from the States, endured the conversion to RHD, polished up and sent to Toowoomba for a first-class ride to HKG via Wellcamp'.
MEDIA Coverage: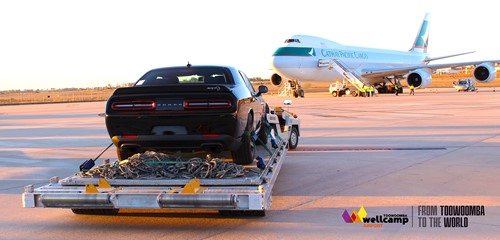 For further details contact:
Izelle Barnard
Marketing & Communications Officer
Toowoomba Wellcamp Airport
P: 07 4614 3200
Robert Kasch
Commercial Manager - Cargo
Toowoomba Wellcamp Airport
robert.kasch@wellcampairport.com.au