12 October 2018
Toowoomba Wellcamp Airport, in conjunction with U3A in Toowoomba Inc. have launched the Wellcamp Airport Volunteer Ambassador program. Now in its 2nd month, the program aims to complement the existing services at the Airport
Volunteers are often the first point of contact for arriving and departing passengers at the Airport, as well as visitors to the Airport. Working in shifts to meet arriving and departing flights, volunteers will be available across the terminal to welcome visitors; provide general airport and transport information; assist parents with children; provide luggage assistance; and support those requiring mobility assistance.
"We are very pleased with how the launch and initial roll out of the program has been received by passengers" said Sara Hales, General Manager of Toowoomba Wellcamp Airport, adding that "Working with U3A Toowoomba to establish this service has been key to its success and we are grateful for the support that we have received from the organisation. We look forward to seeing this program gain longevity alongside the growth of passenger services for our community".
 "The Ambassador program at Toowoomba Wellcamp Airport not only helps our community, but it provides an additional learning opportunity for our members" said Rhonda Weston, President of U3A in Toowoomba Inc. who alongside husband David Weston managed the recruitment and roster development of the initial intake of Ambassadors and coordinate the program on an ongoing basis. U3A Members Con Foley and Allan Langdon further supported the program by providing tourism training to new members during the initial intake phase.
Allen and Angela Langdon from Middle Ridge have firsthand experience of the type of assistance passengers might require. 'Arriving into Wellcamp on the evening flight from Melbourne via Sydney with our four grandchildren (aged 2 to 8 years), two cats, assorted strollers, car seats and luggage in tow, we were grateful for the friendly smile and helping hand offered to us by a member of the
Wellcamp staff" said Mr. Langdon, adding "we are seasoned travelers, but this was quite a daunting and stressful logistical exercise, made manageable by the help of a friendly staff member". That experience made the Langdon's aware of the service that could be provided and resulted in Mr. Langdon not only signing up to assist with the start-up of the program, but also commit his time to the program as an Ambassador. "Try getting service like this in Sydney or Melbourne" quips Mr. Langdon.
Paid up members of U3A in Toowoomba Inc. are able to submit an expression of interest to enter the Wellcamp Airport Ambassador Program by contacting the U3A Toowoomba office.
Formed in 1990, U3A Toowoomba Inc. is one of similar U3A organisations in Australia, with the Toowoomba branch currently boasting over 2100 active members. U3A is the University of the Third Age, which is the age of active retirement, coming after the age of youth and work and home making. University is a loose term – there are no academic requirements for membership, required no prior learning and no exams!
Aimed at retired or semi-retired persons over 50, U3A offers courses covering interests such as exercise, the arts, language, technology, travel, dance, geology, history, language, craft, gardening and the sharemarket to name a few.
U3A welcome new members to their organisation, visit www.u3atoowoomba.com for more information.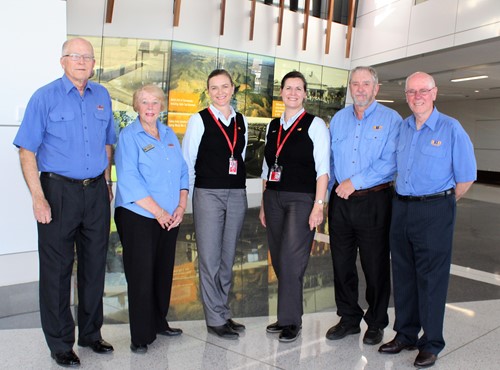 Training for the program was provided by Con Foley (U3A Toowoomba), Rhonda Weston (U3A Toowoomba Inc. President), Sara Hales (General Manager Toowoomba Wellcamp Airport), Izelle Barnard (Marketing & Communications Officer Toowoomba Wellcamp Airport), David Weston (Program Tutor, U3A Toowoomba Inc.), Allan Langdon (U3A Toowoomba)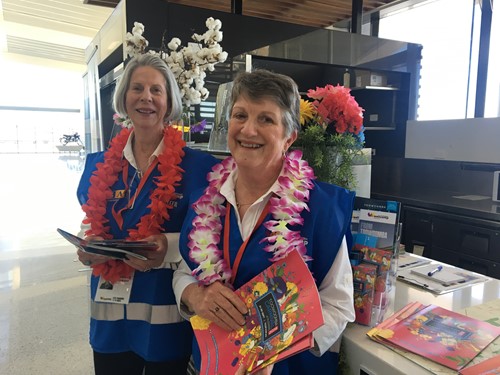 Toowoomba Wellcamp Airport Ambassadors Wendy Wright and Jan Elvery welcoming passengers to Toowoomba during the Toowoomba Carnival of flowers.
For further details contact:
Izelle Barnard
Marketing & Communications Officer
Toowoomba Wellcamp Airport
P: 07 4614 3200
E: Izelle.barnard@wellcampairport.com.au