13 September 2019
The 2019 Business Disability Awards of Australia, Toowoomba & Darling Downs were held last night at the Armitage Theatre in Toowoomba. The Awards recognise businesses and individuals across Toowoomba and the Darling Downs who support, educate and employ people with a disability.
Journalist and Author, Jessica Rowe, was the keynote speaker, sharing an inspiring story of her own journey and challenges with mental illness.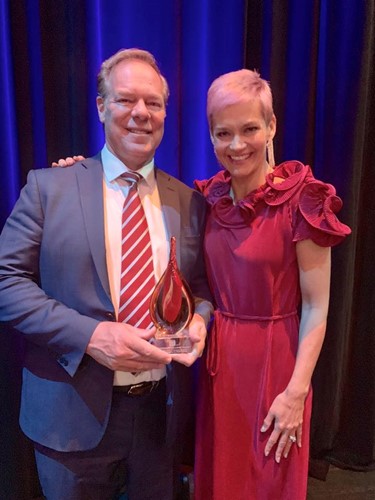 Airport General Manager, Robert Kasch and keynote speaker, Jessica Rowe.
An anonymous nomination in the category 'Innovation and Access' saw Toowoomba Wellcamp Airport enter the awards for the first time.
"We are beyond thrilled to walk away with the Innovation & Access Award at the 2019 Toowoomba & Darling Downs Business Disability Awards" says Robert Kasch, General Manager of Toowoomba Wellcamp Airport.
In the development phase, Toowoomba Wellcamp Airport contracted leading disability advocate and trainer, Sharon Boyce, to draw up the Airport Disability Access Facilitation Plan. The plan is available on the Airport's website and is supported by a Disability Access Map.
"This plan is used as a guideline to train staff, inform volunteers and inform passengers of the availability of accessible services at the Airport", says Kasch.
"The Airport is a catalyst for economic participation in our community and having a plan like this in place ensures that the airport offers enhanced access to air services for people with disability, resulting in their increased social, civic and economic participation".
Toowoomba Wellcamp Airport further has a specialized initiative that involves the Security Screening Team to undergo extensive professional development training to deal with those who have special needs. This is to ensure a smooth, seamless transition through the security checkpoint reducing anxiety, stress and the sense of invasiveness. Not only does this assist the passenger directly, but it also gives a sense of comfort and understanding to those who may be accompanying those individuals.
"We understand that the Security Screening process can be daunting, even for the best of us, let alone someone who may be dealing with a disability" says Kasch, "and it is wonderful to see that the work our team does in this space, recognised on such a prestigious platform like the Business Disability Awards".
Established in September 2018, the Toowoomba Wellcamp Airport Ambassador program formed the third arm of the entry. The program is coordinated by U3A Toowoomba on behalf of the Airport and as the first point of contact for arriving and departing passengers, Ambassadors are often the welcoming hand that provides mobility assistance to passengers.  The volunteer Ambassadors undergo training and form a valuable link in the Airport's customer service chain.
Easy access to aircraft is key in ensuring a smooth journey for a disabled passenger and WTB is one of very few Regional Airports nationwide that has a specialised aircraft lift available to passengers. The DPL 99 Series Aircraft Access Lift allows for an easy transition into an aircraft for those who are physically incapable of doing so.
"We further extend heartfelt thanks to the team at Akadia Training for sponsoring this award. We are honoured to be counted amongst those who do so much amazing work in this space every day and hope to continue working with the Business Disability Awards to encourage others to adopt more inclusive practices", says Kasch.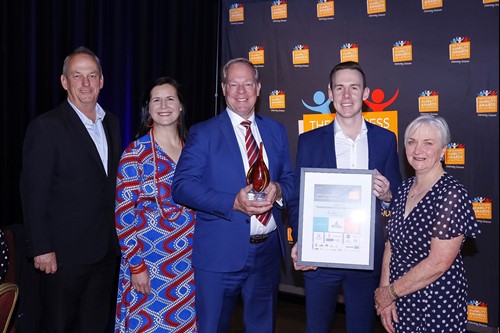 FLTR Simon Jakins - Akadia; Izelle Barnard - WTB; Robert Kasch - WTB; Timothy Carney - WTB; Anne Nitschke - Akadia